Be Essential! Go To Medical Office Specialist School
These days, we hear a lot of talk about "essential workers." These employees perform services to keep our communities fed, safe, and healthy. Would you like to have a meaningful job? Not only are these careers rewarding and fulfilling, but they could also give you a certain amount of job security. Because they are—in fact—essential to a community, it's fair to assume there could be good job opportunities. But how do you become essential? You could start by going to medical office specialist school.
Essential Knowledge for Essential Roles
So, where do essential employees work? Doctor's offices, healthcare clinics, nursing homes, hospitals, and emergency care facilities are all critical examples. To keep these highly needed places running, they need qualified employees. Going to a medical office specialist school could prepare students to work at these facilities. What's more, according to the U.S. Bureau and Labor Statistics, their median pay is more than $40,000. Therefore, in addition to being a satisfying and secure career, it could be profitable as well.
At these many different workplaces, you could qualify for many different types of roles. Sometimes different facilities or employers have different titles for similar jobs. Because of this, medical office specialist school graduates could have many different positions. In addition to being called a medical office specialist, they could have one of these titles:
Medical Secretary
Medical Billing and Collections
Medical Receptionist
Medical Records And Health Information Technicians
Admitting Clerk
Clerical Office Position
Medical Records Clerk
Office Assistant
Administrative Assistant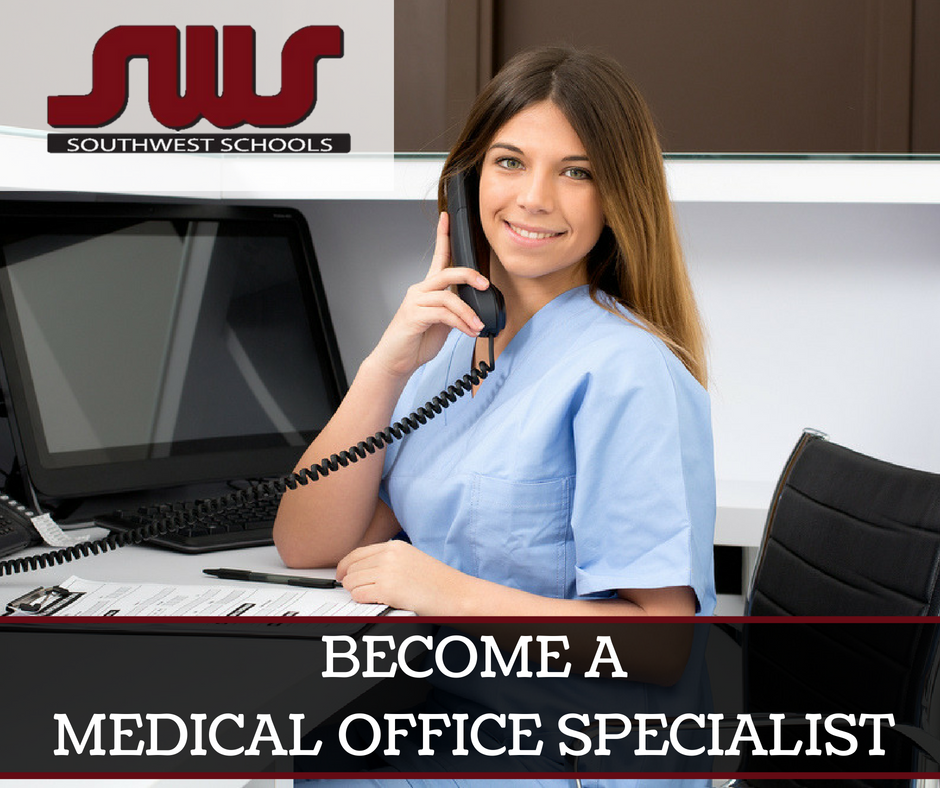 An Essential Skill: Medical Billing And Coding
To become a medical office specialist, you have to learn many skills. One big skill is medical billing and coding. As technology advances, healthcare advances too. New medications, treatments, and tools appear every year. Additionally, technology affects the business of healthcare. That's why billing and coding classes are a big part of medical office specialist school. In a healthcare facility, a medical billing and coding system identifies the type of healthcare a patient has received. These records are essential for a patient's health history as well as for insurance purposes and billing. It's yet another reason why medical office specialists are essential workers.
Medical Office Specialist School In San Antonio
Are you ready to start becoming essential? Apply today to SWS in San Antonio. SWS has been serving the needs of healthcare students since 1979. You can contact us online or by calling us at (210) 921-0951. Our caring and knowledgeable team is ready to answer all of your questions. We can even help you find out if you qualify for financial aid and process all of the necessary paperwork. So, what are you waiting for? Get in touch with us today and find out more about starting your new life as an essential employee!