How a Medical Assistant Program Can Prepare You for a Successful Career
Are you a compassionate person who enjoys caring for others? Have you also been thinking about making a change in your career? Joining a team of healthcare professionals could be exactly the change you've been looking for. Imagine how fulfilling it can be to help others get the care they need while also making a living. As a medical assistant, you could do exactly that! Southwest Schools (SWS) has successfully trained many students to pursue meaningful medical assistant careers in San Antonio. Therefore, if you need a change in your life and are exploring your options, you owe it to yourself to see how training from SWS could prepare you for a rewarding career as a medical assistant.
Learn Several Useful Skills
If you've ever experienced working behind a counter taking orders, you understand just how monotonous it can be. The days can seem so similar that it's hard to tell the difference between them. However, one of the great aspects of a medical assistant's work is that it often includes a healthy amount of variety. SWS trains students in both clinical and administrative skills, preparing them to work in several different healthcare settings as medical assistants. These can include:
Physician offices
Hospitals
Medical clinics
Medical research centers
Insurance companies
Military bases
And more
With such a diverse range of potential workplaces and each having its own unique characteristics and needs, there are excellent opportunities for medical assistants to find the setting that suits them best. Additionally, medical assistants learn clinical skills, such as giving injections and monitoring vitals. But they also learn to perform administrative duties, such as scheduling appointments and maintaining electronic health records. This can provide the balance and variety that many people may feel like they have missed while working other jobs.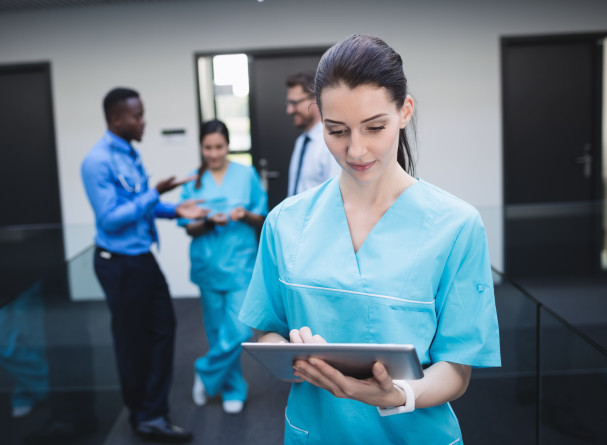 A Very Positive Job Outlook
Another excellent reason to consider medical assistant career training is the excellent job outlook. The Bureau of Labor Statistics anticipates 19% growth from now until 2029 compared with other jobs. For those training to become medical assistants, this can be a big confidence booster, since it means there should be many job opportunities once they've completed the program. With an average pay of $17.23 per hour, a career as a medical assistant could offer a potentially life-changing income for those who would like to be able to support themselves. At more than double the national minimum wage, it's given many students the opportunity to improve their quality of life.
Ready to Begin Your Medical Assistant Career Training in San Antonio?
When you want more than just a job, explore medical assistant career training in San Antonio with SWS. Call 830-626-7007 or contact us online to learn more about this career training program and the many others we offer. Let us help you grow your skills and achieve more in your professional life!