Medical Office Specialist School in San Antonio Offers Night Classes
Train As a Medical Office Specialist
A medical office specialist handles many of the clerical or office duties in your local doctor's office. They work in healthcare and medical settings, ensuring things run smoothly. Do you want to work in a medical career, but not interested in spending four to eight years in college and medical school? Well then, we have the career for you.
You can train at our medical office specialist school in San Antonio in as little as eight months! And it takes only about 12 months if you enroll in our medical office specialist weekend or night classes. But even a year is better than half a decade! See how this career could be what you need for a better future.
Seize The Opportunity!
Attending our medical office specialist school in San Antonio could be an excellent fit for you! Southwest Schools offers a number of benefits to students. These include perks such as:
Short Program Lengths: Get started on the rest of your life sooner! You can finish your medical office specialist classes in as little as eight months at our school in San Antonio.
Financial Aid: You might qualify for financial aid to help pay for your education. Our friendly and trained staff can help you navigate all the options and paperwork. We're always ready to help our students reach their dreams.
High-Quality Instructors: Our instructors have real experience in the field and are dedicated to YOUR success!
Small Class Sizes: With fewer people in your classes, you'll get the attention and help you need from our experienced instructors.
You may qualify for a $2,000 On-Time Graduation Reward!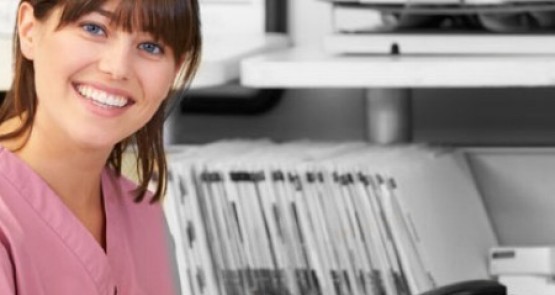 Night & Weekend Classes
For some people, traditional day classes are perfect for their schedules. However, many others need to keep their day job or even watch their kids during the day. Timing issues like these shouldn't stop you from reaching your goals! That's why we offer weekend and night classes to our students. Attending our medical office specialist school in San Antonio can be a reality for you—even if you can't attend classes during the day.
Enroll Billing & Coding Classes
Are you interested in billing and coding classes? If so, our medical office specialist program can bring you up to speed on the latest requirements and regulations. Billing and coding classes can help give a student these highly needed skills. After all, insurance compliance is essential for any medical or healthcare practice. It's a valuable skill and one that medical industry offices are eagerly seeking.
Enroll in Medical Office Specialist School in San Antonio!
Southwest Schools in San Antonio works with students every day, training them for careers in the medical field. Are you interested in our medical office specialist classes in San Antonio? Do you have questions about enrollment, admissions, financial aid, or tuition? If so, contact us by filling out an online form or calling us at (210) 921-0951. We look forward to seeing you in class!